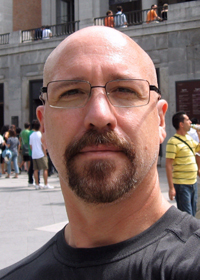 Michael Schrenk became fully immersed in the Internet in the mid '90s when he developed Internet applications that facilitated remote medicine between doctors at heart centers and patients, who lived in remote areas. During this period, he also went back to University to bolster his technology background with a formal Studio Arts education.  He quickly gained a reputation for innovative outside-of-the-box Internet applications that addressed real business problems. In 2001, he founded Michael Schrenk Ltd, which in 2008 became Emosyne Schrenk to better reflect their work in the global economy. Emosyne Schrenk is based in Minneapolis Minnesota, with smaller offices in Las Vegas Nevada and Pune India.
While based in The United States, Michael Schrenk has worked extensively in Madrid Spain and Moscow Russia and has also consulted and lectured in The Netherlands, Switzerland, Morocco, Egypt and  Ukraine.  His clients include Disney, Nike, Adidas, Intel, America Online, Time Warner and Callaway Golf.
In addition to authoring articles for Computer World and other industry magazines, Michael is the Author of "Webbots, Spiders, and Screen Scrapers" (2007 No Starch Press), the definitive reference for developing automated Internet agents (available in English, Italian and soon Russian). He frequently speaks to industry groups and has made three appearances at the world's largest hacker's convention–DEFCON, including: Introduction to Spiders & Bots, Online Corporate Intelligence and in 2007, The Fabulous Executable Image Exploit.  He also holds a patent for mobile Internet server technology and has another patent pending on a specific method for facilitating online auctions. Michael also taught "Website Usability" and "Internet Marketing" at Rasmussen College and Minnesota School of Business/Globe College.
Michael Schrenk can be contacted at his website, www.schrenk.com
Links
Emosyne Schrenk